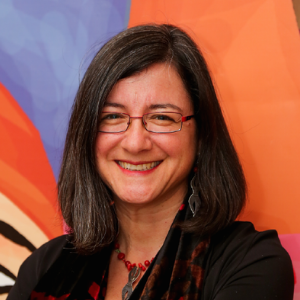 Ayşe Gül Altınay received her Cultural Anthropology PhD and Women's Studies Certificate from Duke University in 2001. At Sabancı University, she has been among the co-creators of the Cultural Studies (BA & MA) and Gender Studies (PhD) programs, the Sexual Harassment Policy, the Purple Certificate Program, the Gender Forum, Dicle Koğacıoğlu Article Award, SU Gender, Şirin Tekeli Research Award and the Gender Equality Action Plan. Having served as the SU Gender Director from 2016 till 2019, Altınay continues to act as the academic coordinator of Curious Steps: Gender and Memory Walks of Istanbul and Transformative Activism: Rethinking Gender and Politics, as well as serving on the Jury of the Şirin Tekeli Research Award. 
Having published extensively on militarism, gender-based violence, cultural diversity,  Islamized Armenians, and gendered memories of war and political violence, Altınay's current research focuses on feminist+ solidarity and transformative activism. She is currently engaged in three EU Horizon 2020 research projects that tackle inequalities from a gender+ perspective and co-design inclusive alternatives for social change: GEARING Roles (which has facilitated the creation of Sabancı University's Gender Equality Action Plan), RESISTIRÉ (RESpondIng to outbreakS through co-creaTIve inclusive equality stRatEgies) and ACCTING (AdvanCing behavioural Change Through an INclusive Green Deal). 
Since 2009, Altınay has served as Associate Editor in the European Journal of Women's Studies and was the Marie Jahoda Visiting Chair in Gender Studies at Ruhr University-Bochum (Germany) in 2012. She was also the co-director of the CEU–Sabancı University Joint Academic Initiative on Gendered Memories of War and Political Violence (with Andrea Petö), which culminated in Gendered Wars, Gendered Memories: Feminist Conversations on War, Genocide and Political Violence, and Visiting Faculty Fellow in the Women Mobilizing MemoryWorking Group at Columbia University Center for the Study of Social Difference, which culminated in Women Mobilizing Memory (with Maria Jose Contreras, Marianne Hirsch, Jean Howard, Banu Karaca and Alisa Solomon).
Altınay is the recipient of PEN Duygu Asena Research Award (with Yeşim Arat, 2008) and Boğaziçi University Üstün Ergüder Research Award (2019). She was recently named as one of the three 2022 inductees into Duke University Graduate School's Few-Glasson Alumni Society.
Since 2008, Altınay has been volunteering at the Hrant Dink Foundation as founding Board Member and Advisory Board Member, contributing to the co-creation of the 23.5 Hrant Dink Site of Memory, a member of the International Coalition of Sites of Conscience. She has also been the co-creator and co-programmer of Hikayenin Her Hali radio program (which began as Hikayenin Kadın Hali in 2003) on Açık Radyo.